GRAMMY Nomination!!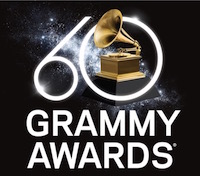 I'm elated to share the news I've been nominated for a 2018 GRAMMY for Best Improvised Jazz Solo for my performance on the track "Can't Remember Why" from the album "Whispers on the Wind" by Chuck Owen & the Jazz Surge. It is truly humbling not only to be recognized, but to be in the company of the other nominees in this category (Fred Hersch, Billy Childs, Chris Potter, and John McLaughlin). As I expressed to Rita Kohn in a recent interview for NUVO Magazine, "Finding success in one's career is not a solitary venture. In fact, it's impossible to do it alone. In looking back at the path that has led to this GRAMMY nomination, each step was made within a community – those who love, support, guide, and encourage. It's that communal network & those experiences that define me, constitute my decisions, & inspire my music. I would not be the daughter, sister, teacher, partner, bandmate, or violinist I am now without the people I've been so fortunate to know & life I've been so blessed to live."
"Whispers on the Wind" has received 3 additional GRAMMY nominations: Best Large Jazz Ensemble album, Best Instrumental Composition, and Best Arrangement. The winners will be announced January 28th during the Premiere Ceremony of the 60th Annual GRAMMY Awards held in New York City.
DownBeat Critics Poll Rising Star Winner…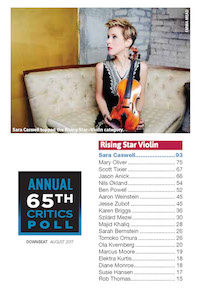 In May of 2017, I was thrilled to learn I'd been named Winner of the "Rising Star-Violin" category in DownBeat Magazine's 65th Annual Critics Poll. Thanks so much to DownBeat Magazine and the critics for their support!