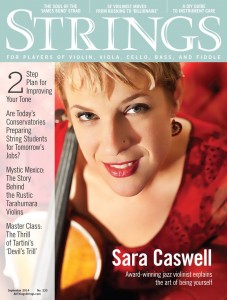 On the cover of Strings Magazine!…
During a rehearsal break last week, I was checking my Facebook page and noticed a friend had tagged me in a post saying "Congrats, Sara!". Curious what he was referring to, I followed his lead and was taken to the Strings Magazine page where this image met my eyes & nearly caused me to drop my phone; I knew an article was in the works but had no idea it'd be featured on the magazine's cover for their September issue.  Such an honor to be recognized in this publication of which I've long been a fan! Here is a link to the article by David Templeton – A Song in Her Heart.
9 horses plays the Soundwaves Concert Series…
Joe Brent, Shawn Conley & I (aka 9 horses) are looking forward to our August 7th concert on Soundwaves, an outdoor concert series in Westport (NY) I was introduced to last year via a performance with Rose & the Nightingale. Between the incredible hospitality, enthusiastic audience, Lake Champlain as our backdrop, and making music with Joe and Shawn, this concert will be a summer highlight.
Fireworks Ensemble heads into the studio…
I'm excited to be part of the Fireworks Ensemble's newest project  American Tapestry, a diverse selection of repertoire arranged by bassist Brian Coughlin that celebrates the "richly diverse threads of America's musical heritage." Following our August 9th performance at the Skaneateles Music Festival, we head into the studio for two days of recording. Stay tuned!
The Village Vanguard with Fabian Almazan…
Pianist Fabian Almazan's newest CD Rhizome (Blue Note/Artist Share) is a beautiful collection of his compositions/arrangements written for rhythm section and string quartet. Our two days in the studio last year recording these pieces were a thrill, as will be our three days performing them at the historic Village Vanguard August 14-17 ~ can't wait!
That's it for now…be sure to check back in the coming weeks for news about some exciting concerts this fall, tours and project in the works, and new CD releases.